The Flu vs. The Flu Shot

Eb

ook


Explore facts and misconceptions of the flu shot.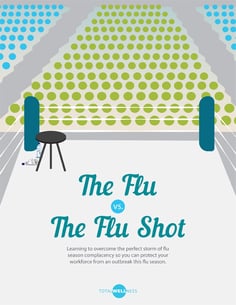 Skepticism about the flu vaccine's effectiveness is understandable, but isn't a good reason to skip it. It's time for you to pick a side. Do you side with the flu shot? Or do you contribute to the complacent attitude people have about flu season?

In order to pick the right side, there's a few things you need to know. Download our latest ebook to learn:
The many factors that contribute to the "perfect storm" of inaction during flu season.
The truth about the seriousness of the flu virus and the importance of the flu shot.
How you can get started siding with the flu shot where you work.
Don't let your employees suffer through a flu outbreak this fall. Stay ahead of the game and stay healthy. Side with the flu shot.
Grab your free copy today!