Get a Free Demo of Beata
Perfectly priced for you.
Experience the key features of Beata and learn how the TotalWellness portal can help you improve the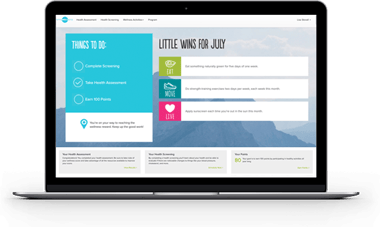 health and well-being of your workforce.
Access health information and resources online:
Beata gives your employees guidance as they learn easy ways to incorporate healthy habits into their lives, plus emails to keep them motivated all year long.
Assess health:
The online health assessment is a short survey that ask questions about specific lifestyle habits and takes less than five minutes to complete.

Engage employees year-round:
Participants earn points for completing elective activities each month. We include activities like getting a flu shot, volunteering in the community and walking during lunch.

Motivate employees:
With our flexible incentive structure, you can select how you want to reward your employees for being engaged with your program.

Measure program success:
Evaluate your wellness program with participation reports, incentive reports, aggregate screening reports and summaries of program outcomes
Ready to see a online wellness portal your employees will love? Request your demo today!