Creating a Healthy Company Culture
The Essential Starter Kit
Your culture matters.
Time and time again, we see companies only offer biometric screenings and expect employee health to improve drastically. They get aggregate reports but don't always know what to do next. Reports that just collect dust do no good for your employee wellness program. If you really want employees to make positive health choices, you need to create a healthy company culture.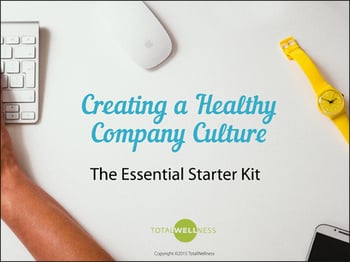 Creating a positive environment for your employees will make your team happier, and your company will do better as a result. To help you get started, we've developed a seven-step process for creating a healthy company culture. Adapt it based on your business needs and employee population.
You'll uncover:
Checklists so you don't miss a step
Examples from other companies
Innovative new approaches
Download the TotalWellness
Creating a Healthy Company Culture Kit
and start implementing wellness strategies at your organization today!